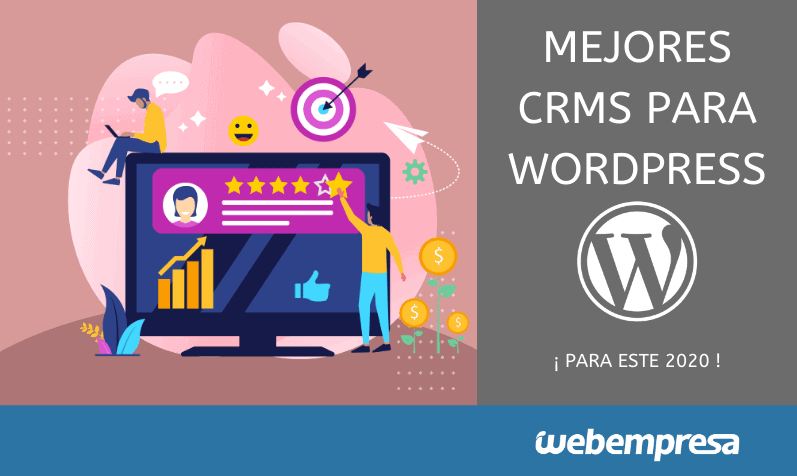 WordPress is one of the best environments to have a functional and scalable web without a great complication.
Within the WordPress environment can find tools that adapt to all business is customer management or CRM integration to help you manage clients in WordPress.
First let's see what is a CRM and how it can help your business.
Table of Contents
What is a CRM?
best plugins CRM for WordPress WP ERP SUMA CRM Zero BS CRM HubSpot All in One Marketing WP-CRM WordPress Leads WooCommerce Customer Relationship Manager Presspoint CRMWP FusionVCita
WP ERP
SUMA CRM
Zero BS CRM
HubSpot All in One Marketing
WP-CRM
WordPress Leads
WooCommerce Customer Relationship Manager
Presspoint CRM
WP Fusion
VCita
Conclusion
WP ERP
SUMA CRM
Zero BS CRM
HubSpot All Marketing
in one WP-CRM
WooCommerce WordPress Leads Customer Relationship Manager
Presspoint Fusion CRM
WP
VCita
What is a CRM?
A CRM (Customer Relationship Management Software) is a software to store customer data and company own, always on hand when needed.
I leave here a quick summary of everything that can make a CRM, as their features can go much further. With it we can, for example:
Create customer database.
Tracking customer history.
Management Accountant level.
Establishment and analysis of KPIs.
data analysis and cross.
Among many other features and functions specific to the company may request that includes your CRM.
And these softwares are used by most companies and multinationals in the daily and needs of these often different being.
Therefore, it is common CRMs would find as or unique characteristics for each company.
This means that the price of the sorfware may become more expensive enough as increases the complexity of this.
This is something that is not usually the most useful and achievable for most companies that only need a functional manager clients that meet the basic needs of customer control.
Wanted to link to our WordPress for convenience of management, so we can find different solutions through some plugins.
Best WordPress Plugins CRM
These are some of the best plugins that can help you with managing your business in WordPress.
WP ERP
WP ERP is one of the most used plugins both for small and large companies as a complete solution for CRM, HRM and accounting.
addition is the most comprehensive including features such as:
Full integration with WordPress and panel configuration.
customers and prospects.
Add notes.
Create different access permissions.
integration with emails.
SUMA CRM

If you want to improve conversions through your CRM, CRM SUMA is a great choice thanks to its simplicity and ease of use.
With SUMA CRM can manage your entire customer base, establishing a funnel and differentiating in various stages to all your customers.
Keep track all your customers throughout the purchase history, creating different profiles and identifying potential customers and can help internal notes that only you will see you and your team.
also able to create reports simple and effective sales to contrast all results.
Along with WordPress, can be one of your best weapons to manage customers.
Zero BS CRM

With Zero BS can manage WordPress base customer data, create and manage invoices.
In addition we will have different extensions with which it is compatible, for example:
Gravity Forms
Mail Campaigns
PayPal Sync
Woo Sync
Simple CSV Importēt
HubSpot All in One Marketing
This WordPress plugin connects with the CRM HubSpot, which is a great tool in managing your current potential customers.
In addition, he can get emails from your visits and synchronize them with your CRM HubSpot.
can use other forms plugins like Ninja Gravity Forms or Forms. As features we can find:
Create forms in various areas such as banners.
Chat Include both automated (Chatbots) and in vivo.
Analytics complete records.
WP-CRM
This plugin is completely free and has their environment entirely within WordPress.
With WP-CRM turn your WordPress into a CRM that lets you manage both your current and potential customers.
All data is stored in the database being created as your WordPress users who can assign roles yourself or change with the passage of time.
with forms for potential customers can capture all the leads you need and will be automatically integrated into your WordPress with the role that you have put in default.
Also, as an added bonus, you will have support with which you can solve all your doubts.
Leads WordPress
If you're looking for a simple plugin for administration leads and uptake of these, WordPress leads can be a great solution.
All data will be saved as custom posts.
One feature worth noting is that can collect all the activity before sending the form by users.
This is something that will facilitate the understanding of shipping and the whole route until the user turns ago.
also can be integrated with almost all forms plugins so compatibility is almost complete.
WooCommerce Customer Relationship Manager
If you are using this plugin is a WooCommerce great tool for boosting your sales .
With WooCommerce Customer Relationship Manager can create custom fields to tailor information to your customers to your needs.
In addition, you can track all your customers can see which are better than others.
can assign workers to certain customer groups and test specific actions in a segmented way, aside from being able to collect all that data.
Presspoint CRM
Presspoint CRM is a pure option CRM WordPress because it can be fully integrated into it.
This plugin has more features than simply storing emails and information, because we can integrate it as email, eCommerce and memberships.
With it we can manage the entire database from our WordPress without leaving it.
In addition, the interface is very similar to the native WordPress so it is very intuitive.
Fusion WP

WPfusión is a WordPress plugin that connects with CRM and it can synchronize customer information to have it always updated.
In addition, new customers can manage and combine information such as conversions and ecommerce transactions.
must also say that it is fully compatible with WooCommerce and LearnDash among others.
VCita
This plugin allows you to connect your WordPress with other CRMs external with customers it can be managed easily and conveniently also managing appointments or tasks.
enables you coordinate customer visits and monitor the whole process of dating.
also can manage transactions and income, so effectively linking your WordPress VCita your account through this plugin.
Conclusion
WordPress gives us a great advantage over other CMS and its flexibility over other web content managers.
Remember that boasts one of the largest communities to CMS and it is a free software.