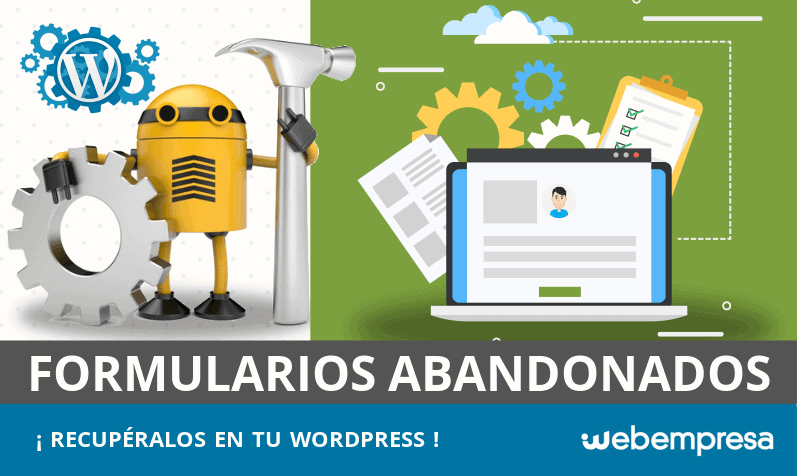 Everyone has happened to us, if not all, almost all walk into a web, you like a product or service mentioned, and actively looking for the WordPress contact form.
Decidedly enter the page where is this form, and you find many fields to fill in, and you feel like going to run 10 km in a row, on January 9 (any year) with your new resolve to get fit. It ie you tired form on sight.
Perhaps you are very interested because the product or service being sold on that site, took a deep breath and start filling field to field, the proposed form.
But in most cases and for most users, the slightest mistake, and the first field to be filled with information that is not appropriate to consider, 'll leave that form .
And this is precisely what we will work on this article: avoid dropouts form (insofar as possible), and how to recover forms abandoned in WordPress to keep the information that has been written on them .
Table of Contents
one form for each web
types of forms that can be abandonadosFormularios of contactoFormularios of suscripciónFormularios of presupuestoFormularios of compraFormularios of encuestasFormularios support
Contact forms
subscription forms
budget forms
purchase forms
survey forms Forms support
What is considered «abandoned form»?
Gravity Forms vs WP forms FormsRecuperar abandoned in WP forms FormsRecuperar abandoned in Gravity Forms
recover forms abandoned in WP Forms
recover forms abandoned in Gravity Forms
Avoid forms abandoned with Gravity Forms
And how do you avoid in general , forms abandoned in WordPress? Do not hide anything on the forms. Be honest and transparenteCampos who have no need to be obligatoriosQue everything works as debeTen a design in line with what pidesCuanta least better information
not hide anything on the forms. Be honest and transparent
fields that have no need to be mandatory
that everything works as it should
Have a consistent design what you ask
The better less information
Conclusions
Contact forms
subscription forms
budget forms
purchase forms
forms surveys
forms of support
recover forms abandoned in WP forms
recover forms abandoned in Gravity forms
not hide anything in the forms. Be honest and transparent
fields that have no need to be mandatory
that everything works as it should
Have a consistent design what you ask
The better less information
one form for each web
may think that the forms are all equal, and that they are also plugins to create them all the same.
Think of a new car, you buy: Do you see the same as your neighbor? Or do you do yours, as if you yourself had built piece by piece?
In each web, invested much effort (or so it should be); a form, is of the type that is, is the perfect starting point your visitors , because it will mean a compliment goal.
is why the fields in each form, the design is, how it appears to your visitors, size, effects have, etc, are a wealth of details that will completely influence whether this form is abandoned or not.
have to insistirte on this issue; grábatelo burned into your mind WordPressiana; your web form, is your key selling tool , and get them to fill out (and do not leave), it is difficult, yes, but not impossible .
types of forms that can be abandoned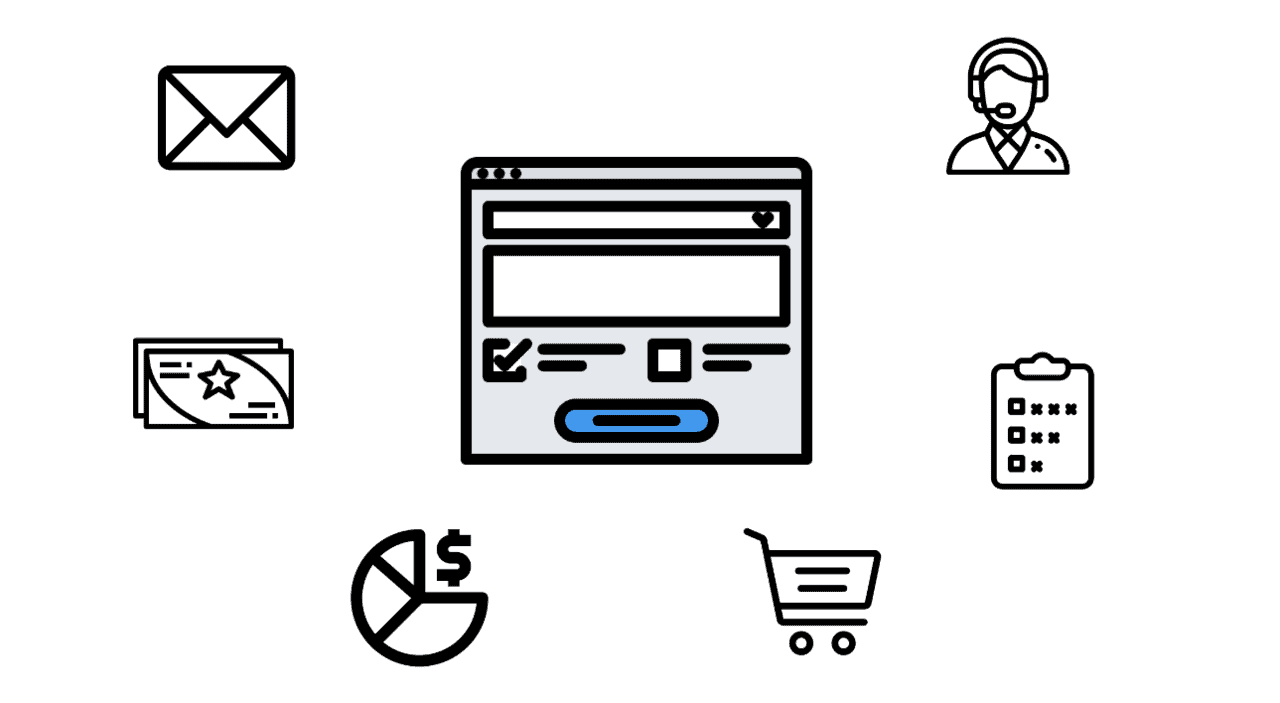 Let's see the types of form more often abandoned, and I'm sure at 99% if you are reading this article is because you have one of any of the guys that you mentioned below.
Let me give an example for each type of form.
Contact forms
have created your website, and you expect to be contacted; yes, you are part of the 99% of people who make websites.
If your site is about an online service that you offer, why you ask in your form the mailing address of your visits?
subscription forms
Super You offer fantastic news that shed a light of wisdom to all subscribers cough.
But … have abandoned many forms in WordPress … maybe it's because you ask the private telephone on your subscription form?
budget forms
If you browse my site, you'll see a budget form, with many questions. Still, I receive many requests because each question is well studied to avoid too many emails exchanged prior to a possible meeting by Skype.
also try to take care of aesthetics and usability of the same, including many optional fields, and only the most important, mandatory .
purchase forms
If even Amazon resists us sometimes buy something because we lay back for any small detail (see it below), imagine how hard it is to get a payment made in our shop online .
to me the most important form all, because it is the one that generates dropouts (still difficult for us today to get our credit card information and share it with others).
survey forms
You just buy a product on a website, and at 2 or 3 days receive an automated email asking you to fill out a survey of satisfaction with the service provided.
If you are caught in the mood good, with a good coffee in hand, actively enter, and you intend to fill the survey.
A entering, the website does not load the whole good, and is not adapted to mobile. also see that the form has 3 «stages» and in the first stage there are already some 10 questions. Best
you drink coffee and filling in the form, for another time … (to me this usually happens to me a lot).
Forms support
This form is a bit tempting, when «put it difficult» to you, as a user.
Has not happened to you that sometimes you do not get anywhere find how to contact directly with a company or online service?
Think of all forms, is the only one that benefits you (you solve a doubt or complaint), and does not benefit much to the website where you send it (they are generating work).
Still, think long-term benefit that's very important (customers happy, recommendations. Etc), so I include here this form, to care for and pamper you, like any other.
There are other types of forms, but the not be so common , I do not think you have to mention here.
We will now focus on forms abandoned in WordPress, and how to recover them (and avoid).
What is considered «abandoned form»?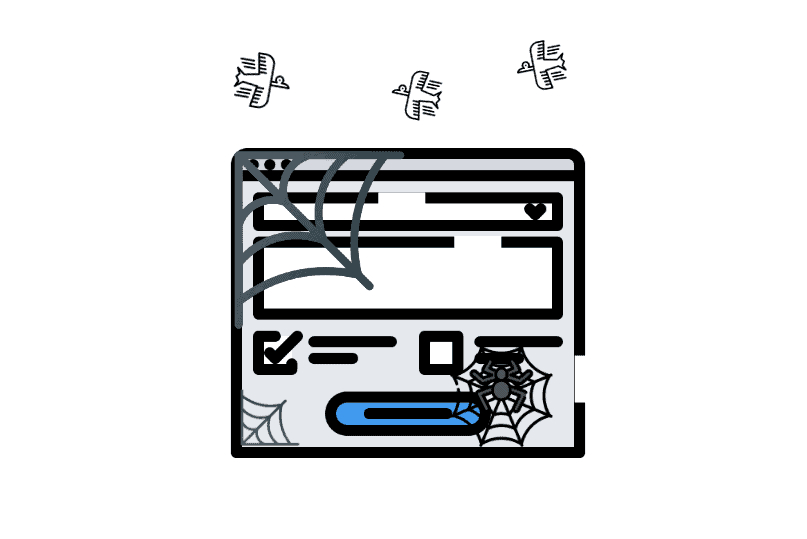 As I have given an introduction rather than extensive, topped with examples of the preceding paragraph, I will not extend much at this point.
abandoned
A form is one that fails to be filled, and which you, as a manager you do not receive web, which, always carries an opportunity cost for you .
Depending on the type of form to be abandoned, the opportunity cost will be greater or less, and one kind or another, but it is almost always money (hence forms cart abandoned are the most «sore» ).
important
What this point is to recognize that a form abandoned not their fault entirely from a visitor to your website, but it also greatly influences the content, appearance and usability you offer to your visitors.
And the second part of the equation, if the control can you, the good news is that the more polished is less dropouts will, I assure you that .
And as theory does not live in the world of WordPress, now step detallarte how you can avoid dropouts in your web forms
Gravity Forms vs WP Forms
In our industry, if spoken forms contact, always come to mind two great titans: Gravity Forms and Forms WP.
If you do not use either, you can also reduce those dropouts, but clearly Gravity Forms and you Forms WP will offer concrete solutions to be more efficient in recovering abandoned forms in WordPress.
The eternal question is always which one to choose. I like much more Gravity Forms (plus it's cheaper), but everyone likes.
later in this article will make a video tutorial on how to implement an extension for Gravity Forms, crucial to what we propose in this article.
Yet you also talk a little about WP Forms, because it is a very good tool as well, and also focuses on the abandonment of forms from a different perspective Gravity Forms, and just as interesting.
recover forms abandoned in WP Forms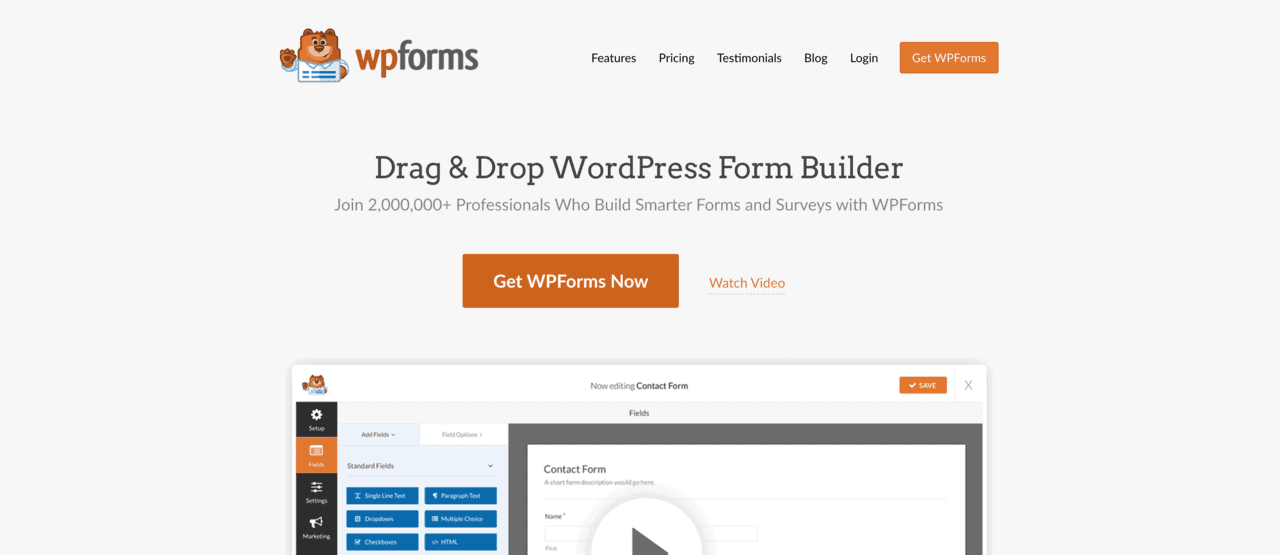 Beginning with an annual price 79 dollars, one of the features of WP forms is the recovery of abandoned forms or forms filled some fields, but then have also been abandoned.
Unlike Gravity Forms when a visitor is filling out fields in your form, and your cursor is moved out of the area of ​​the form, or if you click on a link that takes screen form, the fields there they filled so far, they will be stored in your database.
As you're about to see, the way I just described is much more sophisticated than Gravity Forms, and generally WP Forms is much more complete than its competition, but as I give importance to other elements of the plugin, I prefer decantarme by Gravity Forms.
Lost in Gravity Forms forms abandoned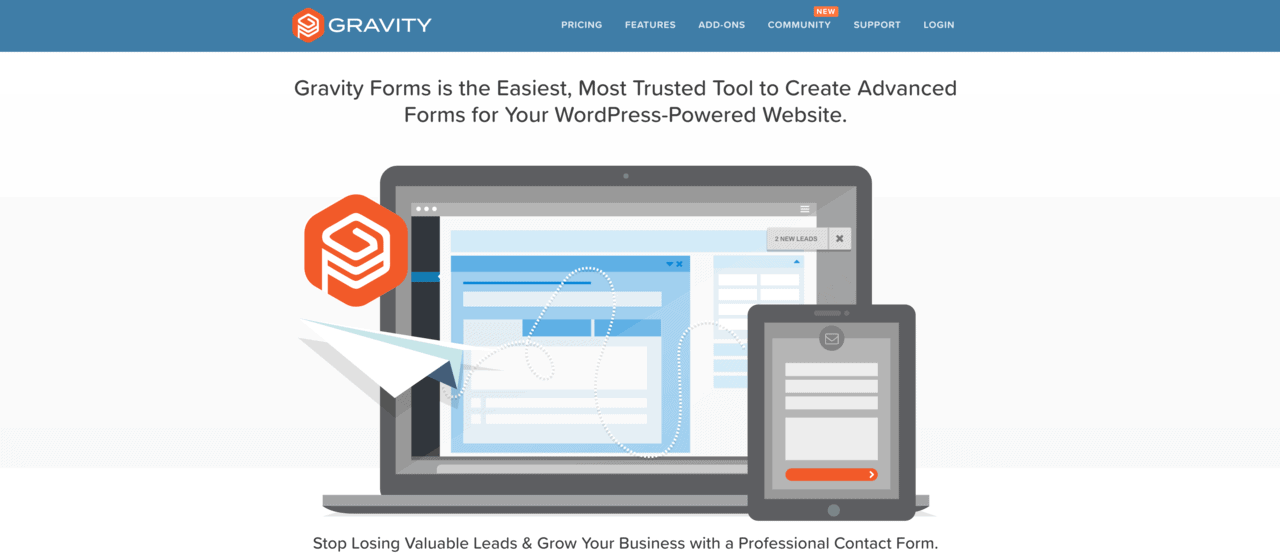 Although we see below more in detail, the way Gravity Forms has to fight against these dropouts is keeping the information written on the form until you when the user gives Send button .
In part this is useful because, as often happens more often than we think, many times we forget to fill in a required field on a form, and the give the submit button, the form tells us that we have forgotten a field, and basically lazy, we leave the form.
What makes Gravity Forms then, is to keep all fields already filled in, even if the user has failed to submit the form itself .
Personally, seems much more useful how does Gravity Forms, as to the give the submit button, the user is showing a real interest in you contact, thus, the information obtained from this form «no fill» is more valuable if the user wanted to go to another page or click on another link (that to me shows disinterest).
then I show how, through one of its extensions .
abandoned Avoid forms with Gravity Forms
Let the main course of this article I'll show you how you can retrieve information already written on your form, as administrator of the web.
What you will see is an extension of Gravity Forms called Partial Entries and obviously need to have installed on your web Gravity Forms, and have set up a form.
With this, official extension of the house itself Gravity Forms, you will get what we intend from the beginning of this article: save all fields will automatically fill the user .
This means that the sooner ask the email to the user, before you have the key to contact him or her, even if the form has been abandoned for any reason.
Yes, the extension recommends leaving a clear message to your visitor, saying that filling the fields go, they will be saved if you give «send form».
The following video will explain how to configure:
And how do you avoid generally forms abandoned in WordPress?
In this last section before the conclusions, I mean, in general, without having to use any specific plugin or extension, how try avoid abandoned in WordPress forms.
not hide anything on the forms. Be honest and transparent
shipping costs, management fees, extras not like anyone … all those surprises that sometimes we are at the end of a form, better not to hide them. It is important to be very sincer @ in this regard.
fields that have no need to be mandatory
As I mentioned in the examples of the beginning of this article, does not make much sense mandatory to , for example, field phone number, if your service is not it is based on having that data.
Or for example, if you sell another product or service, businesses and individuals, do not put the company field as mandatory, that will back out many of the individuals to not knowing what to put.
that everything works as it should
Never toss a web form without trying it before.
may not have been a technical error, easy solution that is making your not fill form has to be filled as .
Have a consistent design what you ask
Not a bland form, not one with too many effects and a design that can divert attention from the main goal: send information form our base data.
The less information better
And finally, try your form is as short as possible, because everyone always have fast Internet.
In most general cases, in just the email form, and as much the name.
Hence, you see making the biggest form, depending on your type of target, but not too long or heavy.
Conclusions
If your web strategy is based on receiving leads through your website, and do not use any of the two tools, I suggest, as a consultant, who invest (not much money) in these tools to get something very professional .
If you still do not want to use them can not make that investment now, nothing happens, there are other ways to reduce dropouts in forms, as we have seen.
But in general, creates forms do not think your visitors and prospects. On the Internet, nobody likes to think you always want to tell us what to do .
If you follow the general rules that I give you in this article, use plugins or not, you will reduce from today these dropouts in your forms, whether of the kind they are.
hope you have proved interesting this article, and see you at the next one!