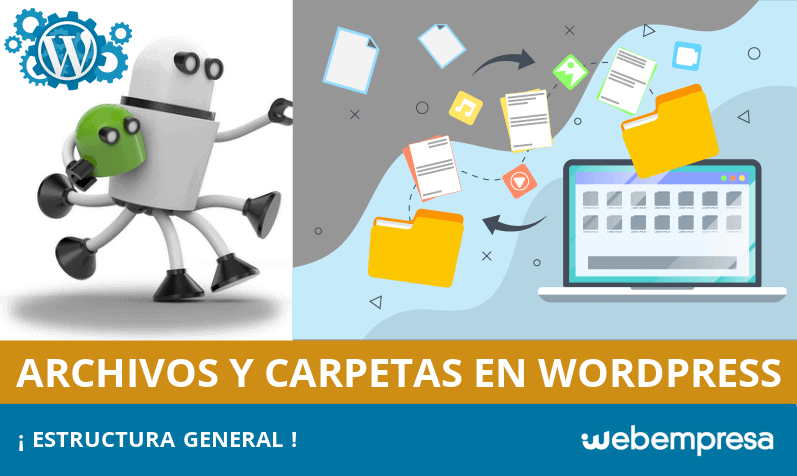 If you work continuously with WordPress you may at some time have browsed its structure, is to make a change or to check whether you have or not a file or folder.
know the general structure of files and folders on WordPress will help with these tasks of managing your website. WordPress has a structure of files and folders rather simple.
The structure currently has WordPress actually has not changed much since the initial obviously versions is changing the structure and increases the number of files and folders as you're installing plugins and themes.
Let's find out how the general structure of files and folders on WordPress.
Table of Contents
default structure of files and folders on WordPress
Main files and folders on the Main raízCarpetas at the root of major WordPressArchivos at the root of WordPress:
Folders Main at the root of WordPress
main files at the root of WordPress:
main subfolders WordPressPluginsThemesUploads
Plugins
Themes
Uploads
explanatory video
Conclusion
Folders main at the root of WordPress
main files in the root of WordPress :
Uploads default structure of files and folders in WordPress
currently in the 5.x version of WordPress, a new default WordPress installation has a full size or approximately 50MB.
also has 3 main folders and 17 files located in the root of the site, as you can see in the picture below.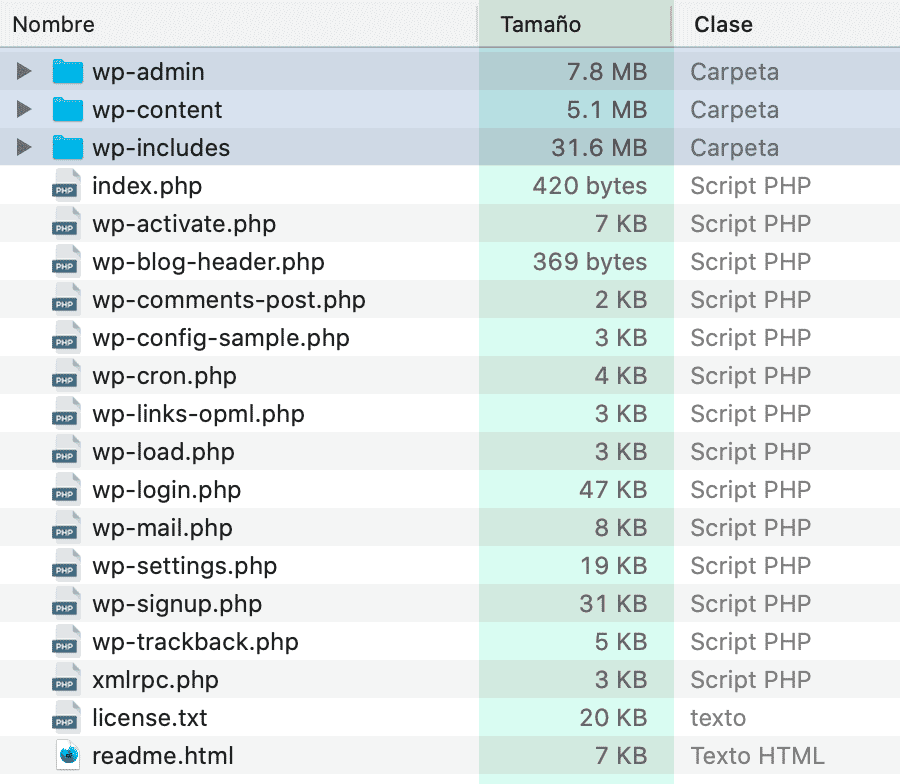 Main files and folders in the root
In the next picture you can see some of the major files and folders in the root of a WordPress site.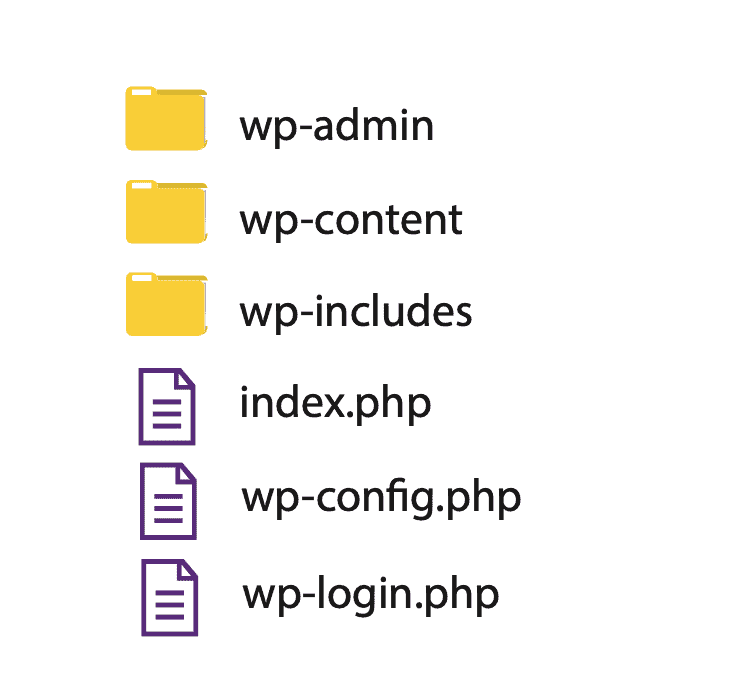 Folders Main at the root of
WordPress wp- admin
this is the folder that contains the files and folders required for the backend of WordPress is why when you enter the use backend the urls https: // yourdomain / wp-admin, is this referring to that folder .
wp-content
While the text content of WordPress is stored in the database, there is content that are physical files, for example images, videos or other resources on your site, stored end in this folder.
addition plugins and themes to install also stored within this folder.
wp-includes
This directory contains files and folders that give functionality to the core of WordPress, such as providing an extensible API that makes functionality through Hooks. You should never modify files in this folder. Main
files at the root of WordPress: wp-config.php
This is one of the main files of your website, if you download WordPress you will see that this file is no longer included dynamically created after an installation.
Within this configuration file see the connection to the database, you can also define constants that will be useful in the administration of your site.
wp-login.php
Previously we saw that to connect to the backend of the site must use the wp-admin folder.
But is this file that controls access to the administration of the site, we can also connect to the backend of the site using: https://tudominio.com/wp-login.php
Recommended reading: What they are wp-admin files wp-login.php and WordPress ?.
.htaccess
This is a file that is created when you enable friendly urls of your WordPress also is an important file for redirections or other security tasks.
point in front of the name of the file systems on Linux indicates that this file is hidden, so you may have to set your file manager of your hosting account or your FTP client to view it.
Recommended reading: useful code for WordPress .htaccess.
Main subfolders WordPress
There are some subfolders which often will work or less will need to know where they are located and what they are, these folders are folders content, ie are within the wp-content folder.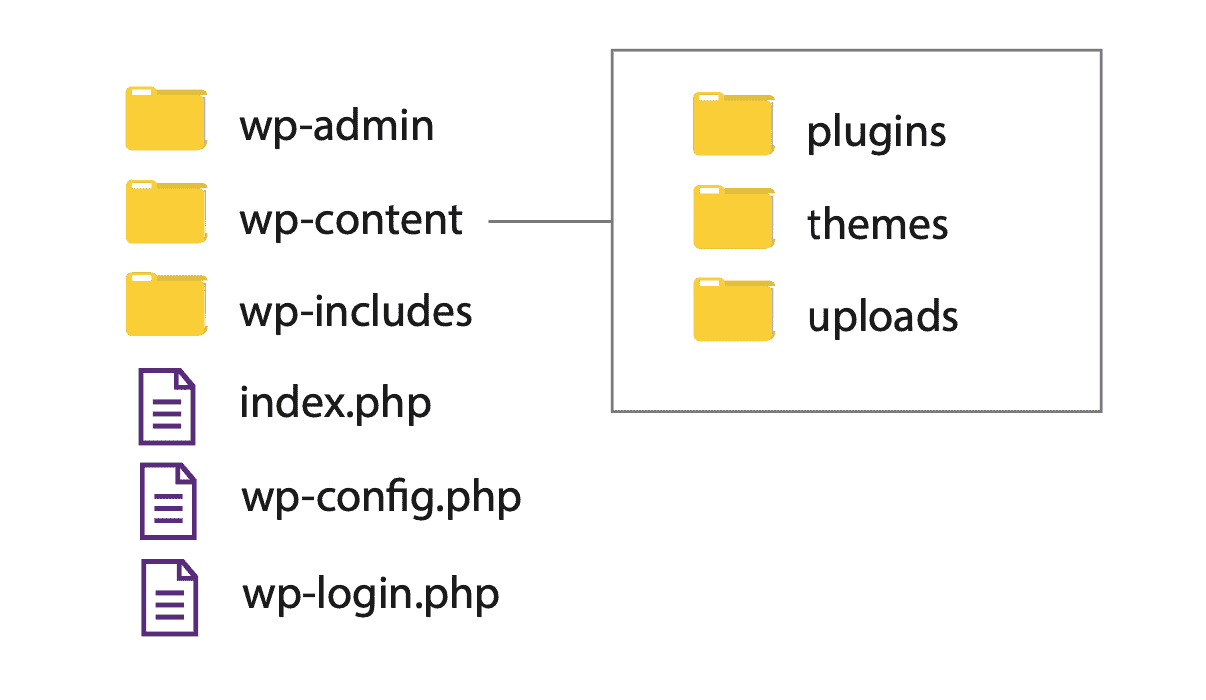 Plugins
Here are stored plugins you have installed on your WordPress, plugins are usually organized into folders, if you delete the folder of a plugin is similar to uninstall the plugin, this is the last option in case you can not uninstall it from the backend of your site.
Themes
This folder contains the WordPress themes, both those that come by default as you have installed in this folder are also topics son are created based on an existing topic.
Uploads
In this folder all the resources you will use your site, such as images, videos, PDF files, stored etc.
By default WordPress organizes resources into folders by year and subcapetas by the number of month, however if just going to start working with your site can change these settings from: Settings > Media > upload files.
is also possible that some plugins put your resource files within this folder. Explanatory video
Conclusion
WordPress has many more folders and files, but in this article we have tried only the main and commonly need to know to get an overview.
If at any time you need to navigate on the structure of files and folders have an idea of ​​what you can find.