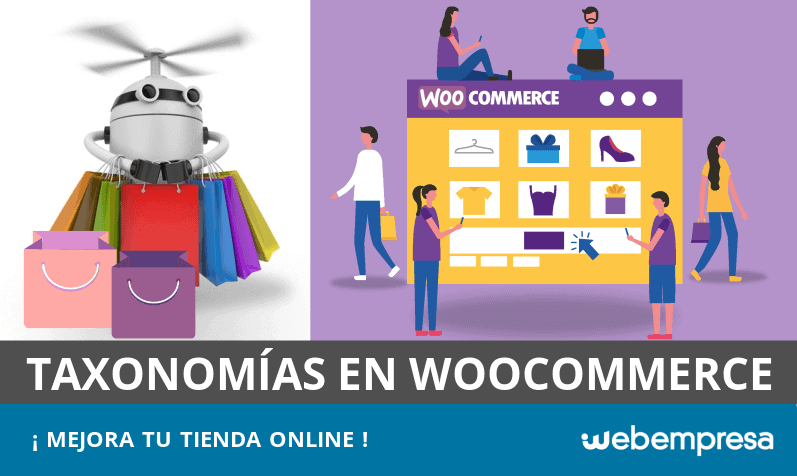 Create an online store WooCommerce is always a very good idea. WooCommerce comes loaded with a powerful tool for creating products and can categorize them through an intuitive taxonomy.
But what happens when you have so many products, or as complex products that taxonomies that come by default WooCommerce is you fall short?
Or being even more simple, what happens when you use bad default taxonomy?
Although this article will focus on the taxonomy of WooCommerce , I will also teach you the differences between very confusing concepts for many people (see them below) and when to use each.
We also'll tell you how add custom taxonomies WooCommerce , if that's what you need most right now.
And do not worry, because you do not need to know code (what programmers call non-Chinese or matrix) to create a good taxonomy. I will show a series of plugins that will serve for this purpose.
To close this introduction to emphasize that throughout this article we will use an example to explain each of the concepts we will treat: an online store for a pizzeria. custom
Table of Contents
Campos VS taxonomies VS Post Types What are Custom Fields What is Taxonomy What are Post Types
What are Custom Fields
What is Taxonomy
What are Post Types
taxonomies WooCommerce default
Recommendations to create a taxonomy clear
methods to create taxonomies in WooCommerce by code via plugins
through code
by plugins
My personal recommendation
Conclusion
What are Custom Fields
What is Taxonomy
What are post Types
plugins custom Fields VS VS taxonomies post types
I repeat in this section, this article focuses on WooCommerce taxonomies; but I consider it necessary to explain the differences between three concepts mixed lot, especially if you are starting in this WordPress, or even if your level is medium.
Custom Fields (In English custom fields).
Taxonomy (English, taxonomy).
Types of post (in English, post types).
And yes, you guessed it, I want from now, when you talk about these elements of WordPress, you try to in its English version .
What are Custom Fields
specifically for WooCommerce a «custom field» is a feature that is added to, in this case, a product or service you have in your online store.
This feature must be unique and will be changing in each product with your online store.
is, it will not be able to «bundle» with other similar products.
In our example, for our online pizza shop a «custom field» could be, for example, and within the product itself that is the pizza, a section short description of the pizza, which will appear on the homepage of our store.
Other «custom field» could be a picture of a piece of that pizza, or a video showing how to prepare fast motion.
Why? Because a «custom field» is a unique element of a product from your online store (in the case of WooCommerce).
The question you have to do to find out if you have to use or not, is: Is the information I'm adding to the product, unique to this product or affects more products?
What is Taxonomy
On the other hand, taxonomy, is just the opposite. It is a feature of the product, which may be grouped with other products, for example, filtering to go until you find the products the customer is looking for.
In our example, examples of taxonomies could be:
Ingredients (obvious)
mass type
Picante or not
suitable for coeliacs
With or without gluten
Suitable for Vegans

Etc.
better understanding Are you going? In this case, the answer to the previous question, would be affects more products .
So you can create on the website of pizzas, for example, a banner big on the home page, put «our Discover pizzas for vegans», and prodding, to take you to a loop of WordPress, where show you all pizzas «labeled» (you taxonomizadas) with «suitable for vegans» in each of the product chips.
What are Post Types
Finally, as to what concepts are concerned, we find the Post Types.
WordPress now comes standard with three Post Types you already know: posts, pages, and multimedia files.
And it sounds like that within posts for example, there taxonomies of «categories» and «tags» and clicking on a «category», you can find all content within that same «category»?
Well you have to be clear here is that a Post Type is a grouping of taxonomies .
In the example we are using, imagination power … as Post Types, we might add, of course, «Pizzas» but also «Local», «Cooks», «Tips for eating pizza», etc. (What comes to mind!).
I have ventured to create this explanatory chart to review all the concepts seen so far:
taxonomies default WooCommerce
once already have clear concepts, now think about your online store (made or to be made).
products you sell, what taxonomy require? Or perhaps what best comes to be a Custom Field? Do I have to create something, or I can use what comes by default with WooCommerce?
By default, WooCommerce comes with the following:
Custom post type: Products
Products
taxonomies: AtributosCategoríasEtiquetas
Attributes
Categories
Tags
Attributes
Categories
Tags
without going into much detail, it is important to say at this point that the attributes differ from labels WooCommerce, in which tags are «no hierarchy» , and attributes always have some sort of «sub-level» called terms.
In our super example, Pizza Spain, as the product itself, could be categorized under «national Pizzas» labeled «Spain» or «olive oil», and attributes as «body type (thin, normal, gross)».
Still thinking about your online store? Check that not have «mixed» labels, when you wanted to use attributes .
For example, if you sell t-shirts, do not make four labels for size: S, M, L, XL; in this case you have to use the attribute «size», and inside the same add «S, M, L, XL».
I know it's something complex to understand the principle, but I'm sure you understand the difference.
Recommendations to create a taxonomy clear
've compiled here are some tips that may help you to devise a strategy of taxonomies much clearer and productive for your online shop WooCommerce:
and finally, strive from the start, to create a taxonomy navigation and clear as possible for your website. Since
, formula is very easy :
And of course choose a good template for WooCommerce.
In our example, tell me which of these scenarios would you choose:
Scenario A: You go to the website and find flags of various countries, and appear prodding ingredients of each country; to puncturing an ingredient, appear pizzas that country and minimal, that ingredient.
Scenario A: You go to the website and find flags of various countries, and appear prodding ingredients of each country; to puncturing an ingredient, appear pizzas that country and minimal, that ingredient.
Scenario A: You go to the website and find flags of various countries, and appear prodding ingredients of each country; to puncturing an ingredient, appear pizzas that country and minimal, that ingredient.
Scenario B: You go to the website and displayed pictures of pizzas, and a filter which can filter by ingredient, by country, body type, type of eater (vegan, vegetarian, etc) …
Both scenarios have a similar taxonomy, but different levels of importance for web browsing .
methods to create taxonomies in WooCommerce
As we have only reviewed the key concepts to have a clear strategy for your website taxonomies WooCommerce, now step to tell you how you can generate your own taxonomy.
When I say «create your own taxonomy» I mean create yourself that taxonomy that does not come by default WooCommerce, and think you should have.
Through code
I flatter you were a programmer and you were reading this article (notice as I go up the colors), but like most «deadly» WordPress, the code we have a little big.
But …. just good to use WordPress is that it has a user community very large, willing to help and give advice, and it is relatively easy to find any questions you have, already asked and settled by other .
Hence, without knowing code, could well create a new taxonomy, with a code already done.
only have to follow a certain tutorial, step by step, and try not to «fuss» on our website.
By plugins
this part if we want more. Truth? And it is that such a basic function like creating your own taxonomy, it would be a great lost, «market» if there were no plugins.
In the next section I'll give my personal recommendation, but I want to mention here a very famous and that work very well:
Pods
Advanced Custom Fields
Custom Post Type UI
Toolset
All they are good solutions to create your own taxonomy. Even for the latter, already exists in this blog an article about how to customize Post in WordPress with Toolset.
My personal recommendation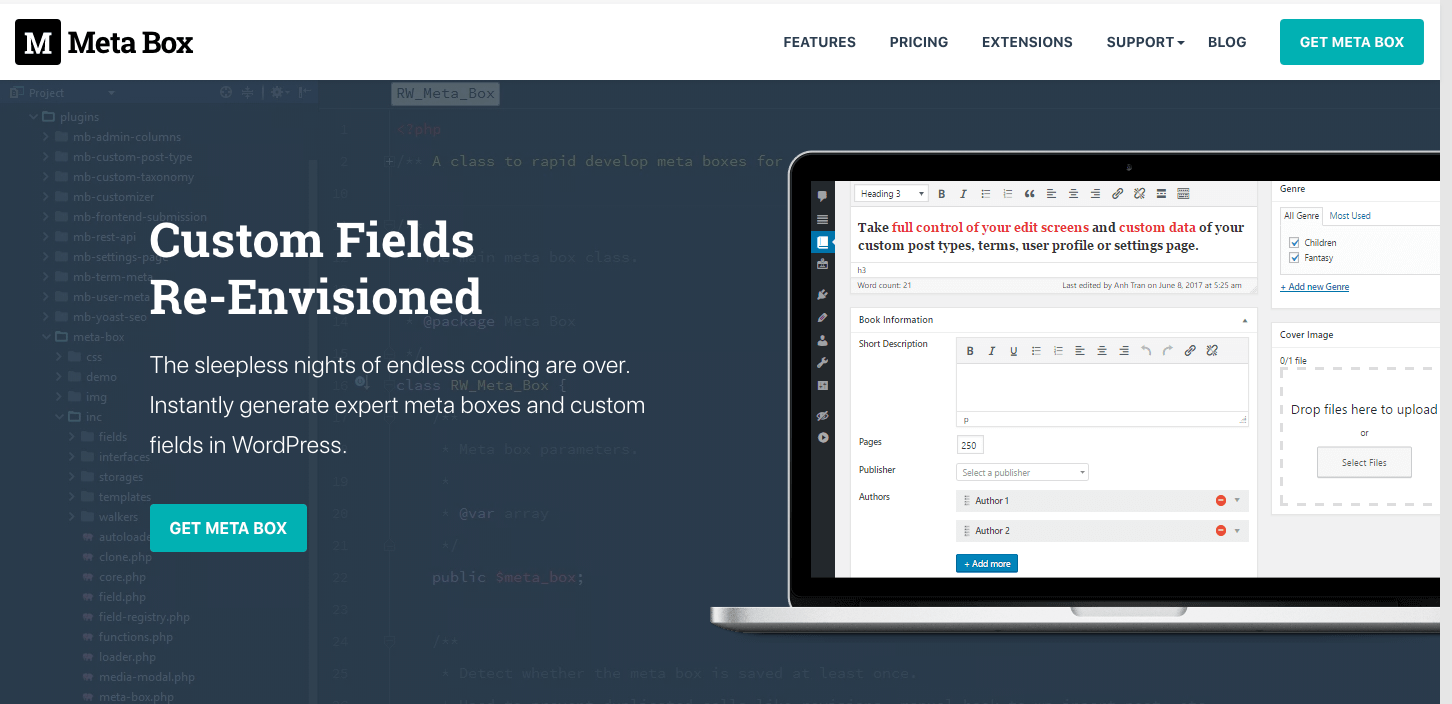 For 3 years, I use a plugin premium (eye, those mentioned in the previous section are also premium) that has worked very well, and I especially like it for three reasons:
has extensive support
has very good integration with other tools I use WordPress
license has no possibility «lifetime» (lump sum, lifetime license for unlimited sites).
Remember, in Webempresa is not supported on payment plugins If you have any questions about this, contact the developer of the plugin so you can help with any questions you have.
The plugin specifically called Metabox. I'm not going to be extended to explain how it works (give for another article), but mention that:
generator has a very good and intuitive taxonomies.
have taxonomies «predefined» that save time when applying them in a web project.
has many addons to implement it with other useful tools.
is very flexible and very well connected taxonomies between them.
is «developer friendly» (ie, if you're a developer, you might also like).
Simply access your demo, and once you realize how polished it is your selling process and product quality.
Conclusion One of the thorniest and sounding «WordPress advanced» is the taxonomies issues.
A good taxonomy, especially if you're using WooCommerce to sell your products, can mean more sales , since these products are to be found more easily by your customers.
taxonomy analyzes that require your products, and venture to create your own, if with whatever comes by default with WooCommerce you is not enough.
Your concept may scare away more «newbies» at first, but I hope this article has left everything clearer, and you try to make your own site taxonomy, with which, no doubt, will sell more products.
A hug and see you in the next article!